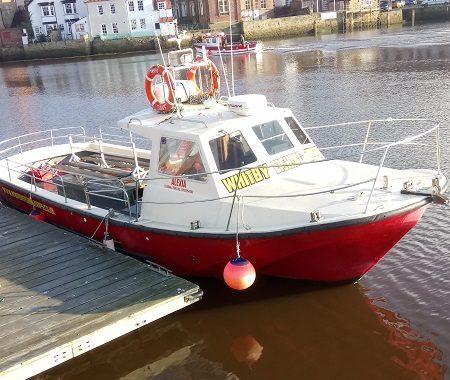 Hi everyone and welcome to the first post of 2018 for Whitby Fishing Trips Ltd.
We hope the 2018 season brings us lots of good weather and fish during the 2018 season.
As you can see we have brought in an Offshore 105 to give everybody more room and comfort and more power when needed to improve everybody's days fishing with us.
We're currently Uptiding and have now opened the diary for the 2018 season.
If you fancy catching some nice cod and also joining us on our new boats' maiden trip, which we have planned for sat 10th March 8am till 4pm, weather permitting, then please don't hesitate to contact us
using the contact form on our Get In Touch page, give us a call on 07470354403 or by using our Social Media links Twitter, Instagram and Facebook just use the links provided here or search for Whitby Fishing Trips Ltd.
Please keep a look out for our regular updates, both here and on our social media, as well as special offers during the season.
All the best
Barrie & Jon