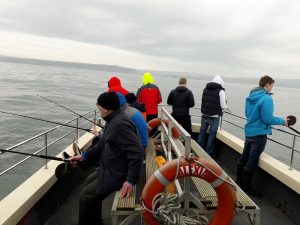 Hi everyone it's not been a good Easter holidays with the weather continuing to keep us in port. We did however get a weather gap on Saturday 7th and Sunday 8th which allowed us to get out on a couple of 3hr trips. The fishing continues to be real hard work with water temperatures still very low and the colour of the water due to all the bad weather it's like a mud slick in places around the inshore waters.
To cap off a poor weekend we also had a breakdown on Sunday due to a faulty earth cable causing us some electrical problems and not allowing us to start the boat!
The problem has now been fixed and no trips booked will be affected it's business as usual. 🙂
We did manage a couple of Codlings which were all returned as they were a little on the small size.
The weather continues to blow for the remainder of the week so it looking like the coming weekend before the weather settle, please look out for our regular updates.
We're still taking bookings for our 2hr evening Mackerel Summer Trips and 3hr Taster Trips so give us a call to avoid disappointment!
We also hope to join the Whitby Charter Skipper Association in the next few weeks this will make us eligible to participate in their annual competitions with a top prize of £5000 up for grabs in the Summer Festival of Fishing. I will update once I have more info on that.
Tight lines for now !!